NELA Remote Service VPN+
Taking some pressure off your IT department, while still managing fast remote access? That's why NELA created it's own VPN solution based on OpenVPN!
Why Remote Service?
Thanks to remote access, our NELA Support is able to provide immediate assistance in case of a problem or even realize suggestions for improvements and changes on the go. This way PLC- and PC-Software configurations can be modied, most of the time even during the installation process.
Your advantages: 
Administration through NELA to reduce your IT department's labor
Compatible with all networks
Immediate reaction is possible to minimize down-time
Zero-hassle setup and no professional know-how necessary
Secure data
The latest encryption standards ( SHA 256, RSA 4096bits) ensure absolute safety of your corporate network. Due to the fact that the NELA equipment does not need any data from your internal network, it can work in it's own autonomous NELA machine network.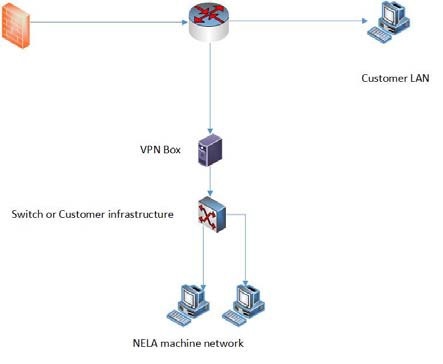 Highlights
Universal solution for any business internet connection
Can be tailored to meet the requirements of your corporate network
Can be customized to your individual needs
Plug & play
Security thanks to the latest encryption technologies
No open ports from the internet needed, keeps your corporate network safe from attacks